Dermal Fillers & Injectables Atlanta
Cosmetic dermal fillers, face fillers, and injectables describe a wide variety of products which are commonly used to treat a variety of conditions associated with facial aging. Most people have heard of products like the neuromodulator, Botox®, and Juvederm®, which is a filler, but the list of available products is considerably longer. At North Atlanta Plastic Surgery Group, we offer the following products:
Neuromodulators:
BOTOX® Cosmetic
Dysport®
Xeomin®
Fillers:
Restylane®
Restylane® Silk
Restylane® Lyft
Restylane® Refyne and Defyne
Juvederm®
Juvederm Volbella® XC
Juvederm Vollure™ XC
Radiesse®
Sculptra® Aesthetic
Microfat Grafting
Kybella®
Dermal Fillers Average Cost: $600 – $2,000*
*Stated average cost is for doctor's fees only and DOES NOT include hospital and anesthesia fees. Fees vary by procedure depending on case duration, which can be determined during the initial patient consultation. Financial assistance is offered.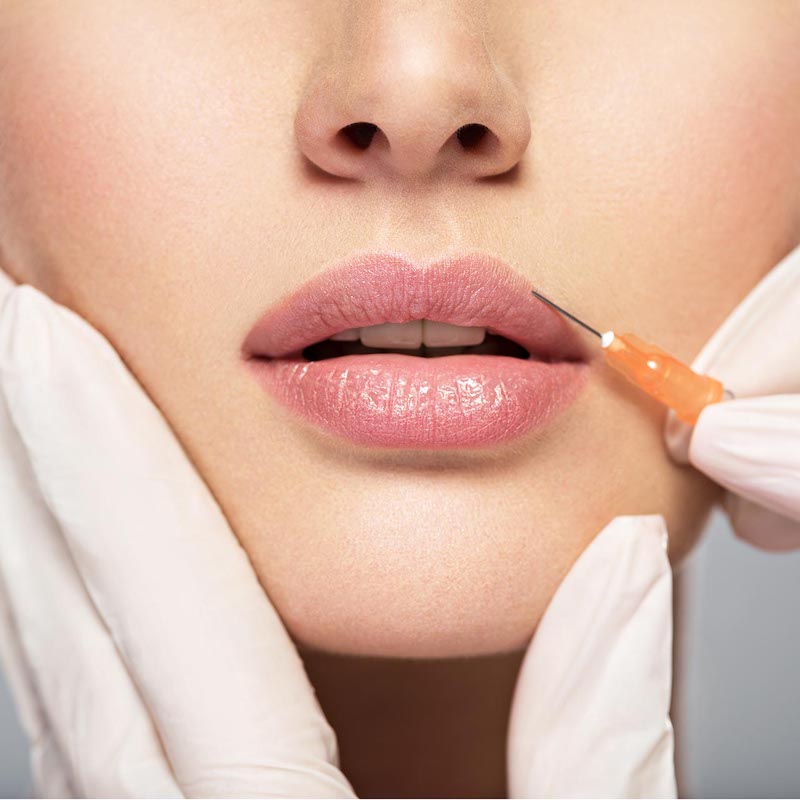 FREQUENTLY ASKED QUESTIONS
What is the right dermal filler for me?
There are several forms of fillers on the market with different characteristics and mechanisms of action. Some fillers act solely by adding volume to the area of treatment, which is usually temporary. Others have a more lasting effect and result in tissue reactions and formation of new connective tissue.
Facial fat grafting is also considered a type of filler. The significant difference is that it comes from your own body and the effects are more permanent and natural.
If you are considering volumizing your face and defying the effects of aging, consult with Dr. Abolmaali to help you choose the right products and procedures to achieve your aesthetic goals.
What is the difference between Botox®/Dysport® and other face filler injectables? Can Botox® help with deep wrinkles?
Neuromodulators are an excellent, minimally invasive treatment for achieving facial rejuvenation. They weaken the muscles of facial expressions and prevent or reduce facial creases. However, they often work best in conjunction with other procedures to obtain your aesthetic goals.
Neuromodulators do not have any effect on loss of volume in the cheeks, lips or temples, nor will they make any improvement to sagging skin. Fillers on the other hand will restore volume to the face and address deep wrinkles. There are many forms of fillers available in the market and each has different effects. Most fillers are temporary in nature, their effects last a few months to a few years.
The synergy of neuromodulators, fillers and resurfacing techniques, such as lasers, comprise the trifecta of facial rejuvenation.
Should I have fat grafting or face fillers?
Fat grafting is a type of filler which comes from your own body, as compared to synthetic materials used in fillers. The effects of fat grafting are more permanent and natural.
The main drawback of fat grafting is that it is difficult to reverse. Fillers are temporary with their effects disappearing after a few months. If you are not satisfied with the result or it does not conform to your expectations, the procedure will naturally dissipate or there are treatments to reverse the effects of the filler even sooner. Fat grafting is more permanent.
Ask Dr. Abolmaali which treatment is best for you.
What can Botox® do for me?
Neuromodulators are a classification of medications which target muscle cells by relaxing their contractions. The most common types of neuromodulators are Botox®, Dysport® and Xeomin®, each have similar actions.
Facial expressions such as smiling, squinting and frowning involve small muscles in our face. Repeated contraction of these expression muscles over the years leads to the formation of creases in the face. Common places for facial creases to appear are the forehead, corners of the mouth, outside edge of the eyes, and around the lips. You may hear them referred to as a furrowed brow, frown lines, crow's feet and bunny lines.
Neuromodulators, such as Botox®, temporarily paralyze the muscles in these areas and release the creasing. If the creases have been present over a long time and have led to structural changes of the skin, the injections can significantly improve their appearance, but may not completely resolve them. Dr. Abolmaali may recommend fillers for these deep lines in conjunction with the neuromodulator treatment.
Who is a candidate for Botox® and Dysport®?
You are a candidate for neuromodulator injection for facial rejuvenation, if you have:
Creases in the forehead or around the eyes or lips with certain facial expressions
Strong facial expression muscles without wrinkles, but would like to prevent the formation of creases and delay signs of aging
A desire to augment certain features in your face without surgery, such as a 'chemical brow lift'
Fixed frown lines, crow's feet or other types of deep creases in your face
Facial asymmetry due to abnormal contracture of muscles in the face or neck, such as smile asymmetry after trauma or stroke
Horizontal neck lines secondary to neck bands
Thick jaw muscles
Migraine headaches
How does Kybella® treatment work?
Kybella® is an injection which helps to dissolve unwanted fat in localized areas, such as under the chin. The Kybella® molecule is an enzyme in the body which helps digest the fat we eat. By injecting it in areas of localized fatty deposits, Kybella® dissolves the fat, and the body gradually rids itself of it through the kidneys.
Kybella® has been used for treatment of excess fat under the chin, inner thighs and other areas. It is a good option for people with elastic skin.
Are the effects of Kybella® treatments permanent?
Kybella® treatment will remove excess localized fat by dissolving the fat molecules. There is significant bruising and swelling in the injected area for a couple of weeks. After healing, the results are expected to last for a long time as long as your weight is stable.
Depending on the amount of excess fat to be treated, it is common for candidates to undergo two to three injections to achieve the desired effects.
Kybella® injection or liposuction?
Kybella® injections and liposuction both target areas of localized fatty deposits; however, there are significant differences in the procedures.
Kybella® injection is a non-surgical technique to dissolve the excess unwanted fat in limited parts of the body. The downtime after the procedure is about two weeks and you usually need two to three treatments to achieve the desired effects.
Liposuction, on the other hand, is a surgical procedure which physically removes the unwanted fat using a suction machine. The down time is usually five to seven days, although some swelling may persist for a longer time. The advantage of liposuction is that it can address larger areas of the body. Normally, one treatment with liposuction is adequate to achieve the desired goal. Therefore, overall downtime and costs are minimized with liposuction.
DERMAL FILLERS IN ATLANTA
North Atlanta Plastic Surgery Group is conveniently located in beautiful Johns Creek, GA and provides Injectables and Threads to patients throughout North Atlanta, including: Alpharetta, GA • Cumming, GA • Roswell, GA • Dunwoody, GA • Sandy Springs, GA • Suwanee, GA • Duluth, GA • Marietta, GA • Smyrna, GA • And More!