Eyelid Surgery (Blepharoplasty) Atlanta
"Eyes are the window to the soul."— Cicero, Shakespeare
A blepharoplasty, or eyelid surgery, is a cosmetic procedure that is designed to rejuvenate the eyelids. Aging can often present changes in the skin around the eyes and eyelids. You may be experiencing wrinkles in the early stages, excess skin, hooded/droopy upper eyelids, and sagging around the eye.
Most candidates for this surgery express concerns are that their eyes look 'tired' or 'sad' even though they are feeling happy and energetic on the inside. In extreme situations, eyelid problems as a result of aging may impair vision. These cases often necessitate operative repair in order to improve eyesight.
Dr. Abolmaali performs both upper and lower blepharoplasty for those who would like to restore natural brightness and youthfulness to their face.
Eyelid Surgery Average Cost: $2,000 – $3,000*
*Stated average cost is for doctor's fees only and DOES NOT include hospital and anesthesia fees. Fees vary by procedure depending on case duration, which can be determined during the initial patient consultation. Financial assistance is offered.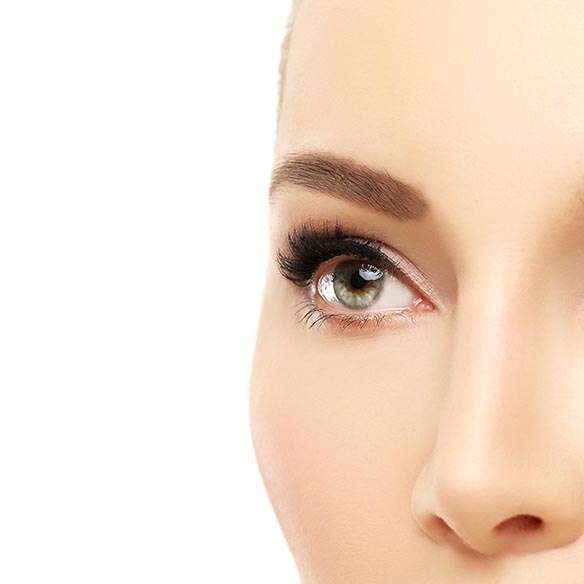 FREQUENTLY ASKED QUESTIONS
What is Eyelid surgery?
An upper eyelid lift, or blepharoplasty, is a surgery designed to improve a tired or aged appearance of the upper eyes and create a more youthful, refreshed appearance.
This procedure addresses the sagging skin and muscle tissue above the eyelid. The plastic surgeon removes a portion of the fat through an incision to achieve a natural looking and full upper eyelid being careful not to hollow out the eye.
Who is a candidate for blepharoplasty?
If you have noticed your upper eyelids looking heavy and thick or people ask if you are tired or sad, it can be due to sagging and excess skin in the upper eyelids. People who benefit the most from eyelid surgery have:
Excess skin in upper eyelids
A 'tired' or 'sad' appearing face, even when they wake up in the morning
Difficulty wearing makeup on the upper eyelid
Have to tape the upper eyelid to see better
It is very important to first determine whether the hooded eyelids are due to excess skin in the eyelids or heaviness of the brows–as the latter management is completely different from a blepharoplasty. Dr. Abolmaali will sit down with you to determine your aesthetic goals and, after a thorough examination, advise you on the correct management of your condition.
How do I know if I need a brow lift or blepharoplasty?
Sometimes, sagging of the brows can be confused with excess skin in the upper eyelids. It is very important to determine the difference, as the type of operative management is completely different. If the situation is unrecognized by the plastic surgeon and the person undergoes a blepharoplasty when they should have had a brow lift, it may lead to long term complications and unwanted outcomes.
You may relax knowing that Dr. Abolmaali has extensive experience in both eyelid surgery and brow lifts, and, after a thorough examination, knows the correct procedure for you.
How is the recovery after upper blepharoplasty?
Upper blepharoplasty is done under general or local anesthesia. Before the surgery, Dr. Abolmaali marks the desired placement of the fold and the amount of excess skin which needs to be removed. The procedure usually takes about one hour and is performed as an outpatient procedure.
After surgery, you have a cold compress over both eyes; however, you can open your eyes normally and will not have any difficulty with your vision. We recommend continuing with cold compresses intermittently for 48 hours. You should expect some swelling and bruising in the first week. Sleeping in a recliner or with your head elevated is recommended to reduce swelling. Sutures are usually removed in five days, meanwhile, you apply an ointment over the incision at night. The incision heals very well and after a few months it is unnoticeable.
What is Asian blepharoplasty or Asian double eyelid surgery?
About half of East Asian people lack the fold in the upper eyelids, which naturally occurs in western ethnicities. For some individuals, this leads to difficulties applying eyeliners and other eye make-up. Double eyelid surgery, or Eastern Asian blepharoplasty, is the procedure to make new folds in the upper eyelids. The results make it easier to wear eye make-up, yet keep the ethnic features for a more natural look.
If you are considering this surgery or have any questions, please book a consult with Dr. Abolmaali.
UPPER EYELID SURGERY IN ATLANTA
North Atlanta Plastic Surgery Group is conveniently located in beautiful Alpharetta, GA and provides Eyelid Surgery to patients throughout North Atlanta, including: Johns Creek, GA • Cumming, GA • Roswell, GA • Dunwoody, GA • Sandy Springs, GA • Suwanee, GA • Duluth, GA • Marietta, GA • Smyrna, GA • And More!