FACIAL REJUVENATION ATLANTA
Facial rejuvenation is a general term for both surgical and non-surgical procedures that are designed to improve the appearance of the face. At North Atlanta Plastic Surgery Group,  we offer a comprehensive approach to enhancing beauty that includes traditional surgical procedures and non-invasive methods that can help you achieve an improved appearance and natural looking face.
Common surgical facial rejuvenation procedures include face lifts, neck lifts, eyelid surgery (upper blepharoplasty), and facial fat grafting. Examples of less invasive methods are the application of a specialized cream to increase the amount of collagen in the skin or injecting Botox®/Dysport® or fillers. Offered individually or in concert at the recommendation of Dr. Albomaali, both methods can make you look several years younger and restore your happiness.
COST VARIES – SEE INDIVIDUAL PROCEDURE PAGES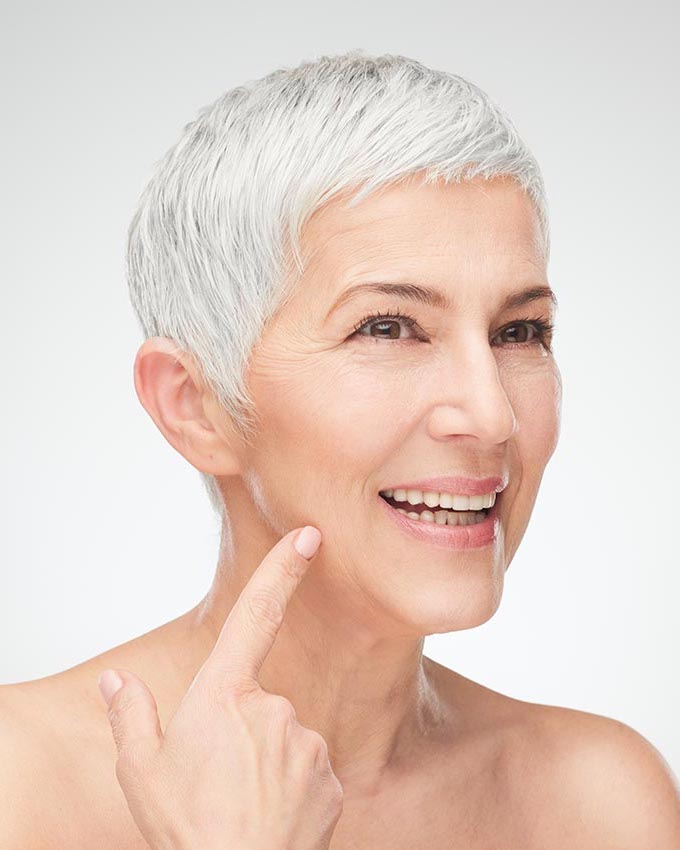 FREQUENTLY ASKED QUESTIONS
What is facial rejuvenation?
Facial rejuvenation is restoring youth and vibrancy to the face using a holistic approach. It includes a multitude of surgical and non-surgical interventions to counter the effects of aging, adverse environmental exposure, and gravity.
Facial aging is the primary cause of the descent of facial tissues and volume loss in certain fat pockets. It may lead to the hollowing of temples, droopiness of the brows, puffiness and wrinkles around the eyes, loss of volume around the cheek bones, deepening of the folds around the mouth (laugh lines and marionette lines), appearance of jowls, and sagging of skin under the chin and in the neck area.
On your consult day, Dr. Abolmaali performs a complete examination of your head and neck, including an assessment of your skin tone and signs of aging. After that, he provides you with his professional assessment to help you choose the right treatment plan, individualized for you.
The individualized plan may include facial resurfacing with laser or chemical peel, the use of non-invasive modalities such as neuromodulators (e.g. BOTOX®), and fillers. Surgical options such as a facelift and neck lift are usually reserved for more advanced cases. There are also less invasive procedures such as fat grafting to consider.
Who is a candidate for facial rejuvenation?
Anyone with signs of facial aging can consider a consult for facial rejuvenation. Signs of facial aging include:
Loss of normal elasticity and skin tone
Sagging skin and an abundance of wrinkles and creases
Flattening of the cheeks and hollowness of the temples
Fine wrinkles around the eyes and mouth
Prominence of the folds around the mouth
Appearance of jowls, sagging skin at the jawline
Excess skin and wrinkles under the chin and in the neck area
Separation of muscle fibers in the neck
If you have concerns about any signs of facial aging, Dr. Abolmaali can give you his professional advice on the best path to achieve your goals. The sooner people seek advice and treatment, the more likely they can avoid surgical intervention.
You are a candidate for facial rejuvenation if you:
Care about your facial appearance and have some signs of facial aging
Are a non-smoker
Do not have any bleeding problems or take blood thinners
Do not have any major medical problems
Have realistic expectations and want to roll back the hands of time
What are different types of facial rejuvenation?
Broadly, facial rejuvenation can be divided in three categories:
Surgical Procedures for Facial Rejuvenation: Depending on patient's goals and objectives, surgical interventions are sometimes needed to restore health and beauty to the face. Here are some of the most sought-after procedures designed to enhance your appearance:

Face lift
Neck lift
Eyelid surgery
Brow lift
Rhinoplasty
Buccal fat pad removal
Chin augmentation
Cheek augmentation
Smile enhancement
Scar revisions

Less Invasive Methods of Facial Rejuvenation: These procedures include office-based interventions which require minimal or no anesthesia. Depending on the procedure, the effects may last from months to years. Here is some of the less invasive procedures designed to improve your appearance:

Neurotoxin injections e.g. Botox, Dysport, Xeomin
Filler injections such as Restalane, Juvederm, Sculptra
Laser resurfacing procedures
Facial deep peels such as blue TCA peel, phenol peel
Facial threads such as PD0

Topical Creams, Facial Regimens: The use of proper, individualized facial regimens can have a significant effect on your face. These regimens can be combined with surgical or less invasive methods to boost their effect. Complaints such as fine lines, skin pigmentations, sun damage, pores, and tired looking skin can be all addressed with good quality, individualized facial regimens.
FACIAL REJUVENATION SURGERY IN ATLANTA
North Atlanta Plastic Surgery Group is conveniently located in beautiful Johns Creek, GA and provides Facial Rejuvenation Surgery to patients throughout North Atlanta, including: Alpharetta, GA • Cumming, GA • Roswell, GA • Dunwoody, GA • Sandy Springs, GA • Suwanee, GA • Duluth, GA • Marietta, GA • Smyrna, GA • And More!
COMMON FACIAL REJUVENATION PROCEDURES