Fat Transfer Breast Augmentation Atlanta
Afat transfer breast augmentation (also known as breast fat grafting) from the abdomen and sides of the waist to the breast is the most common technique for breast augmentation without implants.
There is a new trend in larger cities, such as New York, Los Angeles and recently Atlanta, towards breast augmentation without implant.  This is very appealing to many women, as it will also help them lose stubborn fat in unwanted areas.
A fat transfer breast augmentation, like other fat grafting procedures, includes liposuction to obtain the unwanted fat, fat processing to remove the blood and fluid, and finally injecting the processed fat back into the breast.
Fat Transfer Breast Augmentation Average Cost: $2,000 – $4,000*
*Stated average cost is for doctor's fees only and DOES NOT include hospital and anesthesia fees. Fees vary by procedure depending on case duration, which can be determined during the initial patient consultation. Financial assistance is offered.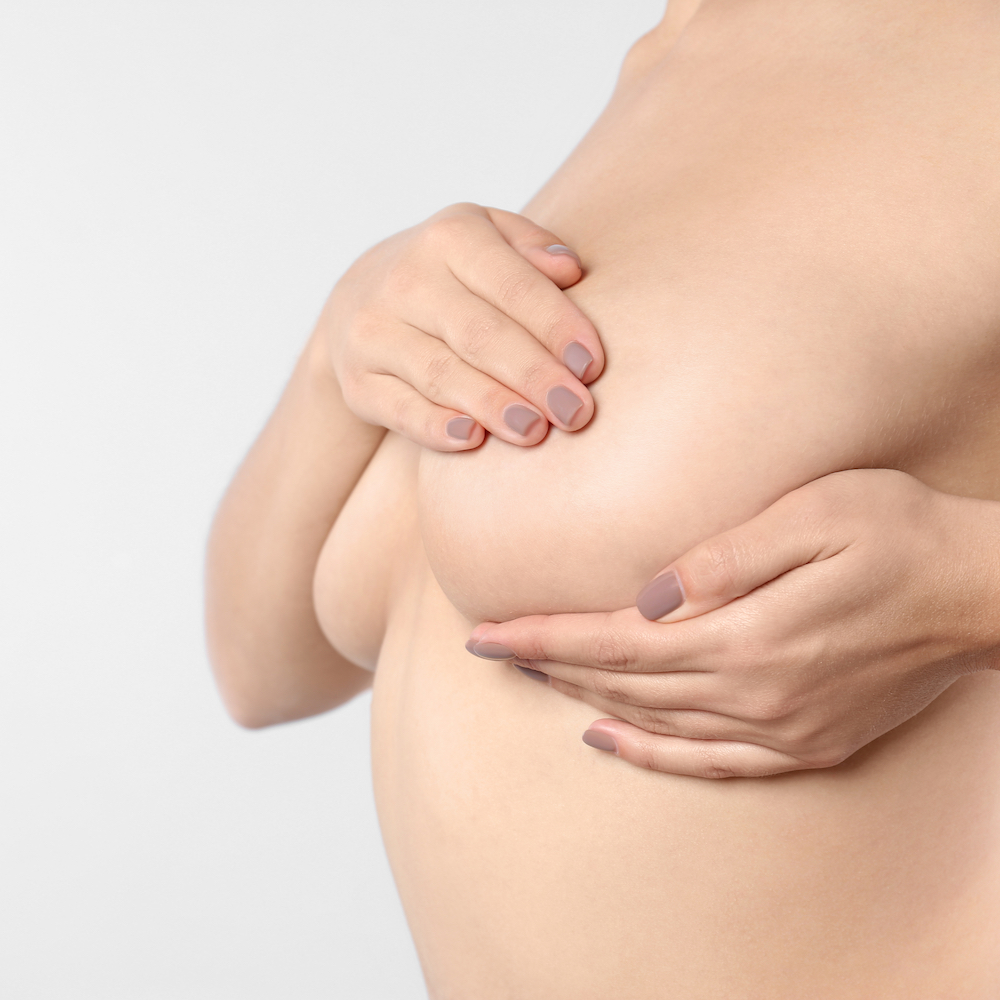 FREQUENTLY ASKED QUESTIONS
What incision is used for a fat transfer breast augmentation?
Breast fat transfer is done with virtually no incisions. Usually small holes are made using a needle and fat is injected using a specialized blunt cannula into the breast. At the end of the procedure, bandaids are placed over the injection sites without any need for sutures.
Can breast fat grafting be done under local anesthesia?
Yes, breast fat grafting can be done under local anesthesia, if it does not involve large volume fat grafting. The main reason for general anesthesia would be for patient's comfort. The fat injection itself is not painful, however large volume liposuction can be uncomfortable under local anesthesia alone.
Can I get rid of my breast implants and keep my breast size?
Breast implants are one of the ways to enlarge the size of breast, however, there are other methods for breast augmentation. One of the most popular techniques involve injection of fat to increase breast volume. This can be done as the primary method to enlarge breast or after failed other techniques such as breast lift with implants.
SIEF procedure (Simultaneous Implant Exchange with Fat) is the name of procedure when processed fat is injected to the breast at the same time of breast implant removal.
What is SIEF procedure?
Simultaneous Implant Exchange with Fat or SIEF procedure is becoming more popular as an alternative for breast augmentation with implants. SIEF procedure involves surgical removal of breast implant together with capsule around it and refilling the breast tissue with fat. Normally the fat is harvested via liposuction from flanks and abdomen, which is then processed before injecting back to the breast.
The overall success rate of SIEF procedure is very high as the skin is already stretched by the old implants and this will allow injection of larger quantities of fat.
FAT TRANSFER BREAST AUGMENTATION IN ATLANTA
North Atlanta Plastic Surgery Group is conveniently located in beautiful Johns Creek, GA and provides Breast Fat Grafting Surgery to patients throughout North Atlanta, including: Alpharetta, GA • Cumming, GA • Roswell, GA • Dunwoody, GA • Sandy Springs, GA • Suwanee, GA • Duluth, GA • Marietta, GA • Smyrna, GA • And More!