Gynecomastia Surgery for Male Breast Reduction Atlanta
For men with enlarged breasts, gynecomastia surgery, or a male breast reduction can help.
Breast enlargement in men is an over development of breast tissue. It can be in the form of excess fat tissue, specialized breast glands and/or excess skin. Gynecomastia is a common complaint among older teenage males and men after weight loss. Although, it can present itself in any individual, depending on diet, medications and genetic propensity.
Gynecomastia also presents itself with several medical conditions, such as thyroid disorder or with certain medications. The cause of the breast enlargement must be determined before attempting to correct it surgically.
Gynecomastia Surgery Average Cost: $4,300 – $5,200*
*Stated average cost is for doctor's fees only and DOES NOT include hospital and anesthesia fees. Fees vary by procedure depending on case duration, which can be determined during the initial patient consultation. Financial assistance is offered.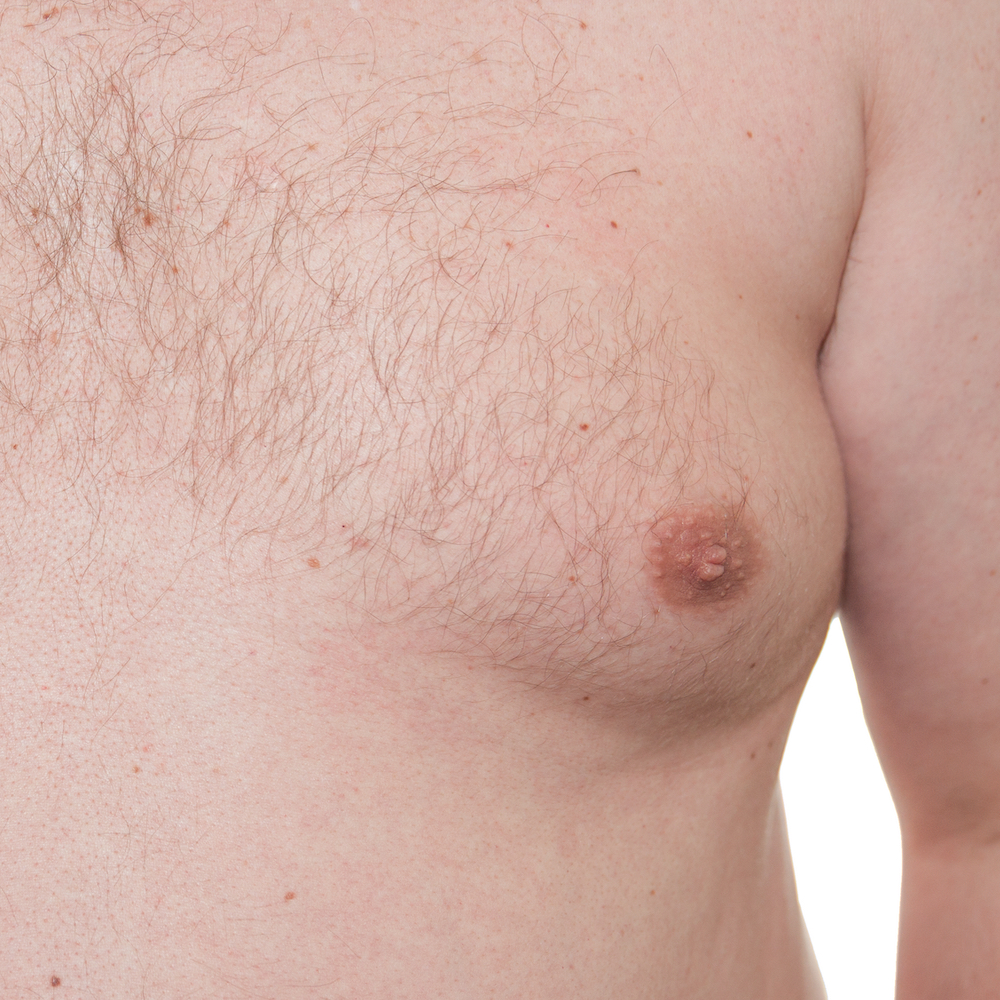 FREQUENTLY ASKED QUESTIONS
Can Gynecomastia Surgery get rid of my 'man boobs'?
This self-deprecating term for enlarged breasts in men can have severe psychological and social consequences. Many men with the condition are not comfortable removing their shirt at the gym or beach. Convinced that with hard work such as bench presses to build their pectoral muscles, my clients attempt to reduce the enlarged breasts with little success. The problem is that gynecomastia is not only fat, but mainly composed of breast tissue with glands and ducts. Therefore, exercise and/or liposuction alone normally does not alleviate the condition.
The surgical procedure for gynecomastia includes removal of breast tissue behind the nipple/areola and contouring the chest with liposuction. This is usually performed under general anesthesia through an incision hidden within the dark pigmented skin of the nipple.
I am a man with enlarged breasts. Am I a candidate for male breast reduction surgery?
Candidates for male breast reduction surgery:
Do not have any unknown underlying conditions leading to gynecomastia
Are bothered or emotionally affected by the appearance of their chest
Are not actively smoking cigarette or using drugs such as marijuana
Are medically healthy with realistic goals
Can enlarged breasts in males lead to cancer?
That is a very common question among candidates. Normally enlarged breasts in men do not develop into cancer; however, male breast cancer can present as gynecomastia. If you have an asymmetric male breast enlargement, a rapidly growing mass, or a history of breast cancer in relatives, you should be evaluated to rule out breast cancer.
What medical tests should I have before gynecomastia surgery?
Even though enlarged breasts in men are common, there is a long list of medical conditions which can lead to gynecomastia. Dr. Abolmaali has a list of medical questions for you, followed by a thorough examination to decide if there are any concerns to explore. A blood test to check certain hormones such as thyroid, testosterone and estrogen as well as routine lab results is necessary. Depending on the results, you may be referred to an endocrinologist. In some cases, an ultrasound of the breast and or testicle might be necessary as well.
What is the scar like after gynecomastia surgery?
The surgical incision is usually hidden within the dark pigmented skin of the nipple/areola. Most men heal very well without any visible scar after this surgery. If you have a history of keloids or difficulty healing after cuts/surgeries, Dr. Abolmaali can provide you with strategies to reduce scarring and ensure the best possible outcome.
Can I have liposuction only to treat 'male breasts'?
Most of the time, there is some breast tissue or 'disk' under the nipple/areola in men experiencing gynecomastia. Liposuction is only capable of removing fat cells and helping to contour the chest; however, it cannot dissolve the breast tissue. Therefore, if your surgeon has determined that there is a disk of breast tissue present, liposuction alone does not address the condition of gynecomastia or produce the desired outcome.
There are different types of liposuction such as ultrasound liposuction (VASERLipo®) or laser liposuction (SmartLipo®). With these techniques, energy is used to dissolve the fat cells to facilitate the liposuction. If the glandular disk in gynecomastia is well formed and thick, energy-based liposuction devices are not able to completely remove the tissue and give you a flat chest.
What can I expect after recovery from gynecomastia breast reduction surgery?
Male breast reduction surgery is usually an outpatient procedure performed under general anesthesia. You are discharged to go home the same day after recovery. You have on a compression garment upon completion of the surgery and before you wake up.
Sometimes, Dr. Abolmaali uses drains during gynecomastia surgery. Surgical drains are specialized tubes to remove the excess fluids and blood from the site of breast removal. They help reduce complications such as fluid accumulation, infection and bruising. Surgical drains are very easy to take care of and to remove. You are given instructions for their management at your pre-operative evaluation and on the day of surgery. It is important to empty drains twice daily and chart the output in a diary. Dr. Abolmaali usually removes the drains on your first post-op visit, depending on the amount of fluid they are discharging.
There is some discomfort during the first two to three days after the surgery, which is controlled with pain medications. You are able to perform daily activities after two to three days and can return to work in one week. You should avoid heavy physical activity or workouts for two to three weeks. We recommend you wear the compression garment for at least two weeks followed by stretch shirts for another three weeks.
Gynecomastia Surgery in Atlanta
North Atlanta Plastic Surgery Group is conveniently located in beautiful Johns Creek, GA and provides Male Breast Reduction Surgery to patients throughout North Atlanta, including: Alpharetta, GA • Cumming, GA • Roswell, GA • Dunwoody, GA • Sandy Springs, GA • Suwanee, GA • Duluth, GA • Marietta, GA • Smyrna, GA • And More!