Liposuction Atlanta
Body contouring with liposuction is a great way to reshape and create an ideal figure by removing excess fat in targeted areas of the body. Liposuction is not a weight loss surgery; however, it is a perfect way to become slimmer and eliminate stubborn areas of fat deposition that seem resistant to diet and exercise.
Skin type and texture is an important factor in achieving the maximum benefits from liposuction. As a plastic surgeon, Dr. Abolmaali determines whether the skin has the elasticity to recoil after removing the fat or if we need to combine a skin removal surgery together with liposuction.
Liposuction Average Cost: $2,300 – $5,500*
*Stated average cost is for doctor's fees only and DOES NOT include hospital and anesthesia fees. Fees vary by procedure depending on case duration, which can be determined during the initial patient consultation. Financial assistance is offered.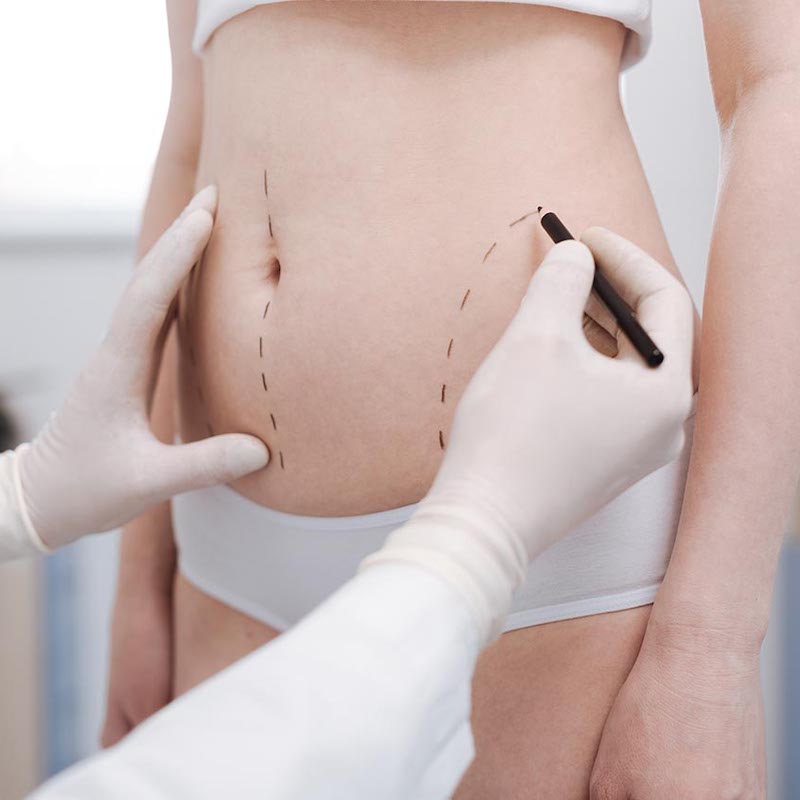 FREQUENTLY ASKED QUESTIONS
On which body areas can liposuction be performed?
Liposuction works by breaking up fatty tissues under the skin and suctioning it out using a specialized machine. It is a safe procedure when performed by trained plastic surgeons in an accredited surgery center. Liposuction can deal with stubborn fatty deposits in the following areas:
Neck and under the chin
Abdomen
Sides of the waist, 'love handles'
'Muffin top'
Back
Bra rolls and chest
Hips
Outer thighs, 'saddlebags'
Inner thighs and inner knees
Arms
Male breasts
Am I a candidate for lipo?
If you are healthy and close to your ideal body weight, then liposuction is a very effective tool to deal with areas of fat which are not going away with diet and exercise. The most important factor which determines the success of liposuction is the quality and elasticity of your skin. If your skin is sufficiently elastic, the skin naturally tightens after removing the excess fat by liposuction. Smoking and other nicotine products significantly increase the risk of complications and we recommend that you quit before booking your surgery.
If you are healthy and bothered with certain areas of stubborn fat, Dr. Abolmaali provides professional advice on how you can benefit from liposuction body contouring.
Are there different types of liposuction?
Liposuction surgery is the process of breaking up fat under the skin and removing it using a suction device. There are several technologies which facilitate the procedure and may have added benefits.
In Standard Lipo, the surgeon will make very small incisions and inject the areas with a fluid to reduce the amount of bleeding. The fat is harvested using small metallic tubes, called cannulae, connected to a specialized suction machine.
Power Assisted Lipo or PAL uses the same concept, but the device vibrates in a back and forth motion to facilitate the fat breakdown.
VASERLipo® is a minimally invasive ultrasonic device which first liquifies the fat then removes it using the standard liposuction cannulae. This technique helps skin contract better than standard liposuction due to the heat produced.
SmartLipo® is similar to VASERLipo® in using energy to break up fat cells and tighten the skin; however, SmartLipo® uses a laser to generate heat whereas VASERLipo® uses ultrasound.
Are liposuction effects permanent?
The effects of liposuction are usually permanent, if you maintain your weight without significant change. Liposuction removes the fat cells in the treated areas, therefore if you gain some weight after the procedure, it would be distributed evenly between the treated areas and the parts which are not treated. The same rule applies if you lose weight after the surgery.
Is lipo surgery dangerous?
In general, liposuction is a low risk operation. Liposuction is a surgery and should be performed by a trained plastic surgeon. No surgery is without risks, plastic surgeons are trained to predict and prevent adverse effects by only selecting appropriate candidates and by choosing the best technique for performing the surgery.
The American Society of Plastic Surgeons have a set of criteria to minimize the risks when the procedure is performed in an outpatient setting. Dr. Abolmaali has had extensive training with leaders of cosmetic surgery in Manhattan, NY, thereby helping you to choose the right technique to minimize risks.
What can I expect for recovery after liposuction surgery?
Liposuction is an outpatient procedure which can be performed under general anesthesia or sedation, depending on your preferences and the area to be treated. At the pre-op visit, Dr. Abolmaali reviews the steps of surgery and recovery as well as the risks. You are asked to sign an informed consent and receive prescriptions for pain and nausea relief as well as antibiotics, so they are ready for you on the day of surgery.
On the day of surgery, Dr. Abolmaali reviews the consent form once more and answers all your questions. The areas to be treated are marked as well.
After surgery, you have a special compression garment on which reduces swelling and discomfort. There is some discomfort in the treatment areas for one or two days, which is controlled by pain medications. You can shower on the second day after surgery, unless advised otherwise by Dr. Abolmaali. You are required to wear the compression garment for two to four weeks after surgery, depending on the amount of swelling. You see some immediate results after liposuction body contouring, however the final results are more apparent after a few weeks.
LIPOSUCTION IN ATLANTA
North Atlanta Plastic Surgery Group is conveniently located in beautiful Johns Creek, GA and provides Liposcution Surgery to patients throughout North Atlanta, including: Alpharetta, GA • Cumming, GA • Roswell, GA • Dunwoody, GA • Sandy Springs, GA • Suwanee, GA • Duluth, GA • Marietta, GA • Smyrna, GA • And More!