Lower Eyelid Surgery (Lower Blepharoplasty) Atlanta
Alower eyelid surgery (also known as a lower blepharoplasty) is the sister procedure to the upper blepharoplasty (or eyelid surgery) is the lower blepharoplasty. Similarly, this procedure is designed to combat changes in the skin around the eyes, but more specifically targeting sagging under the eye.
If you feel that your eyes look tired or sad, and you would like to restore the natural, youthful appearance of the face around your eyes, the lower blepharoplasty could be the answer. Dr. Abolmaali performs both upper and lower blepharoplasty in those who would like to restore natural brightness and youthfulness to their face.
Lower Eyelid Surgery Average Cost: $2,500 – $3,200*
*Stated average cost is for doctor's fees only and DOES NOT include hospital and anesthesia fees. Fees vary by procedure depending on case duration, which can be determined during the initial patient consultation. Financial assistance is offered.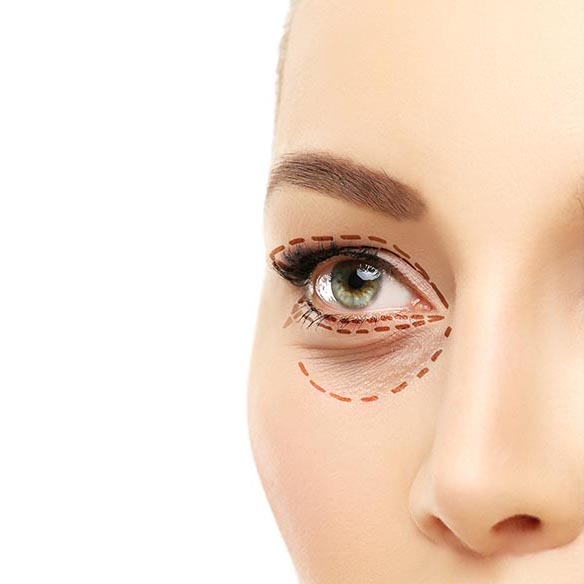 FREQUENTLY ASKED QUESTIONS
How is lower eyelid surgery performed?
A lower blepharoplasty is commonly considered when you have concerns about the appearance of sagging skin ('bags') or dark shadows around the eyes. As we age and experience the effects of gravity, the natural fatty pockets around the eye may move. If there is no excess skin, Dr. Abolmaali performs the operation from inside the eyelid without any incision visible on the skin. However, if there is a need for skin removal, then the incision is made just under the lashes. This incision usually heals very well and is not noticeable after a few months. There are occasions when fat tissue needs to be repositioned to eliminate dark shadows ('tear trough') under the eye, this is performed through the same incision.
For some candidates, it is also recommended that laser resurfacing of the lower eyelids be combined with a lower blepharoplasty.
Dr. Abolmaali sits down with you to determine your aesthetic goals and, after a thorough examination, discusses different plans with you to ensure your goal of having rejuvenated and youthful looking eyes is achieved.
Who is a candidate for lower eyelid surgery?
If you have concerns about the appearance of 'bags' or dark shadows around the eyes or people ask if you are 'tired or sad,' it can be due to movement of natural fat pockets and/or excess skin in the lower eyelids. People who benefit most from lower blepharoplasty include those experiencing:
Dark circles around the eyes
Deep wrinkles around the eyes
Heavy 'bags' visible under the eyes
Dark grooves under the eye
A 'tired' or 'sad' looking face, even when they wake up in the morning
Excessive tearing or dryness of the eye
It is important to discuss your aesthetic goals with the surgeon to devise a plan that addresses all your concerns.
I have dark grooving/circles under my eyes. Should I have a lower blepharoplasty?
Dark grooving or circles are common when we age and a tell-tale sign of lack of sleep. The 'tear trough' is the term plastic surgeons use to describe this area under the lower eyelid. There are several reasons for their appearance, but most commonly they are due to the displacement of fat behind the lower lid or the sagging of tissues over the cheeks.
In a lower blepharoplasty we normally remove the excess fat which is causing the 'bags' around the eyes. If you also have concerns about the appearance of your 'tear trough,' we reposition the fat to conceal the underlying bone (dark appearance) instead of removing it.
Not all surgeons who perform lower eye lid surgery feel comfortable with fat repositioning procedures. If you have concerns, then ask your surgeon specifically about it.
What is laser eyelid surgery? Can I have a laser procedure instead of a lower blepharoplasty?
A laser procedure resurfaces and tightens the skin, especially in the lower eyelid area. For certain candidates, laser resurfacing is all they need to rejuvenate their face and eyes. Determining the right candidate for the procedure is critical. Laser therapy alone may not be adequate to address all your particular concerns.
Dr. Abolmaali has extensive experience in eyelid surgery and laser resurfacing to help you make the best decision.
How is recovery after a lower blepharoplasty?
Lower blepharoplasty is usually done under general anesthesia. Before the surgery, Dr. Abolmaali reviews the goals of the surgery and placement of the incision with you. The procedure takes between one to two hours.
After surgery, you have a cold compress over both eyes; however, you can open your eyes normally and have no difficulty with your vision. We recommend continuing with cold compresses intermittently for 48 hours. There is some swelling and bruising in the first week. Sleeping in a recliner or with your head elevated is recommended to reduce swelling. At night you apply ointment to the incision and sutures are usually removed in five days. The incision heals very well and after a few months it is unnoticeable.
LOWER EYELID SURGERY IN ATLANTA
North Atlanta Plastic Surgery Group is conveniently located in beautiful Johns Creek, GA and provides Lower Blepharoplasty Surgery to patients throughout North Atlanta, including: Alpharetta, GA • Cumming, GA • Roswell, GA • Dunwoody, GA • Sandy Springs, GA • Suwanee, GA • Duluth, GA • Marietta, GA • Smyrna, GA • And More!