Skin Cancer Plastic Surgery Atlanta
Closing wounds is a type of art–especially skin cancer plastic surgery. One of the beauties of plastic surgery is the creativity involved to combine art and skills to repair defects of different shapes and sizes to restore function and shape with minimal distortion of normal structures. Skin cancer plastic surgery is mainly performed by the dermatologists and surgical oncologists and the majority of the defects are repaired primarily by the oncologist; however, some will require involvement of plastic surgeons to reduce the functional and aesthetical consequences.
Most commonly, any skin defect on the lips, nose, eyelids, ears, forehead and brows will need closure by plastic surgeons. Also depending on size, skin defects in other areas such as scalp, arms/ legs and trunk will require specialized flaps to repair the defects. This is commonly performed by plastic surgeons
INSURANCE APPLIES
This procedure is typically covered by insurance. As such, individual co-pay or out-of-pocket expense will be determined upon consultation and/or after approval by the insurance company.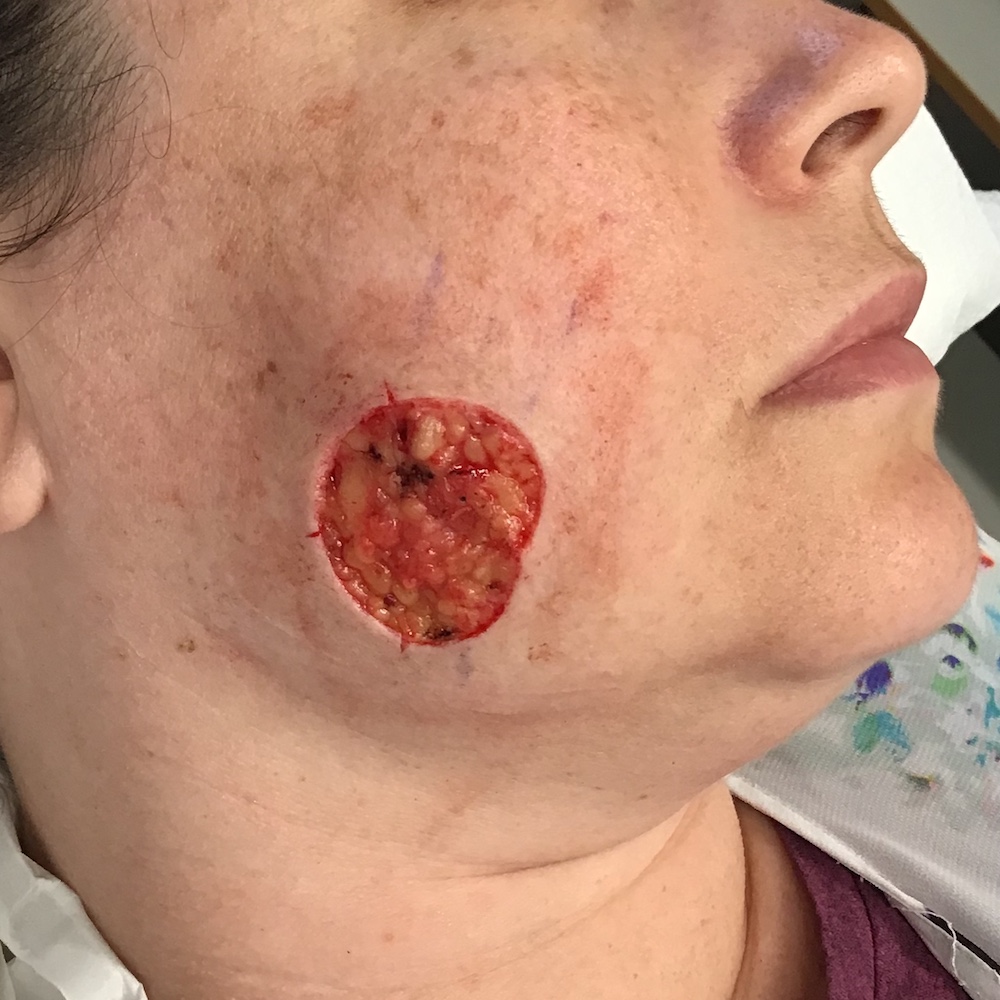 FREQUENTLY ASKED QUESTIONS
How does plastic surgery reconstruct skin cancer scars?
There are many different factors which determine the method for closure of a skin defect after cancer surgery. Apart from the location, size and proximity to certain landmarks, the depth of the defect and exposure of underlying structures such as bone, muscle or vessels will dictate how the defect should be closed.
The common methods to close a defect after skin cancer surgery include:
Primary closure
Skin grafting
Local flaps
Borrowing tissues from other parts of body
Allowing the wound to heal by itself
Should I see a plastic surgeon before skin cancer surgery?
There are multiple different ways to have a plastic surgeon involved in your care after skin cancer surgery. Normally, you can discuss the closure options with your dermatologist. Your dermatologist will advise you if your need help from a plastic surgeon for best outcome.
It is best advised to see your plastic surgeon before removing the skin cancer to make sure all the care has been arranged so that you can have your reconstructive procedure without any delay.
What is the role of skin cancer plastic surgery as it relates to  Mohs surgery?
Mohs surgery is typically done by a specialty trained dermatologist. Mohs surgery involves removing the skin cancer in stages while examining each section of the skin under microscope to assure adequacy of excision while minimizing removing normal skin. Most Mohs surgeons are capable of repairing simple skin defects after Mohs surgery; however, if defect is located in sensitive areas of face such as nose, lips, or lids, the patient will benefit from closure of defect by a plastic surgeon. This allows the minimal scarring and deformity after skin cancer removal.
SKIN CANCER PLASTIC SURGERY IN ATLANTA
North Atlanta Plastic Surgery Group is conveniently located in beautiful Johns Creek, GA and provides Skin Cancer Reconstruction Surgery to patients throughout North Atlanta, including: Alpharetta, GA • Cumming, GA • Roswell, GA • Dunwoody, GA • Sandy Springs, GA • Suwanee, GA • Duluth, GA • Marietta, GA • Smyrna, GA • And More!