Breast Implants with Lift Atlanta
To address both diminished size and pendulous or sagging breasts, you may need to consider breast implants along with a breast lift (mastopexy-augmentation).
Some women, especially after child birth or weight loss, notice that their breasts have lost volume and are flatter especially in the upper area.
A breast lift corrects the position of the breasts and the size of the nipple/areola, while the implants help to restore volume and upper breast fullness. The result is a fuller size breast in a more youthful and natural position.
Candidates for this type of surgery often find themselves having to wear push-up bras with padding to make their clothes fit properly. When you are no longer satisfied with having to depend on a bra to shape your breasts, let Dr. Abolmaali's experience work for you. As a cosmetic plastic surgeon, he is current on all the new techniques of the mastopexy-augmentation surgery.
Breast implants average cost: $5,500 – $6,700*
*Stated average cost is for doctor's fees only and DOES NOT include hospital and anesthesia fees. Fees vary by procedure depending on case duration, which can be determined during the initial patient consultation. Financial assistance is offered.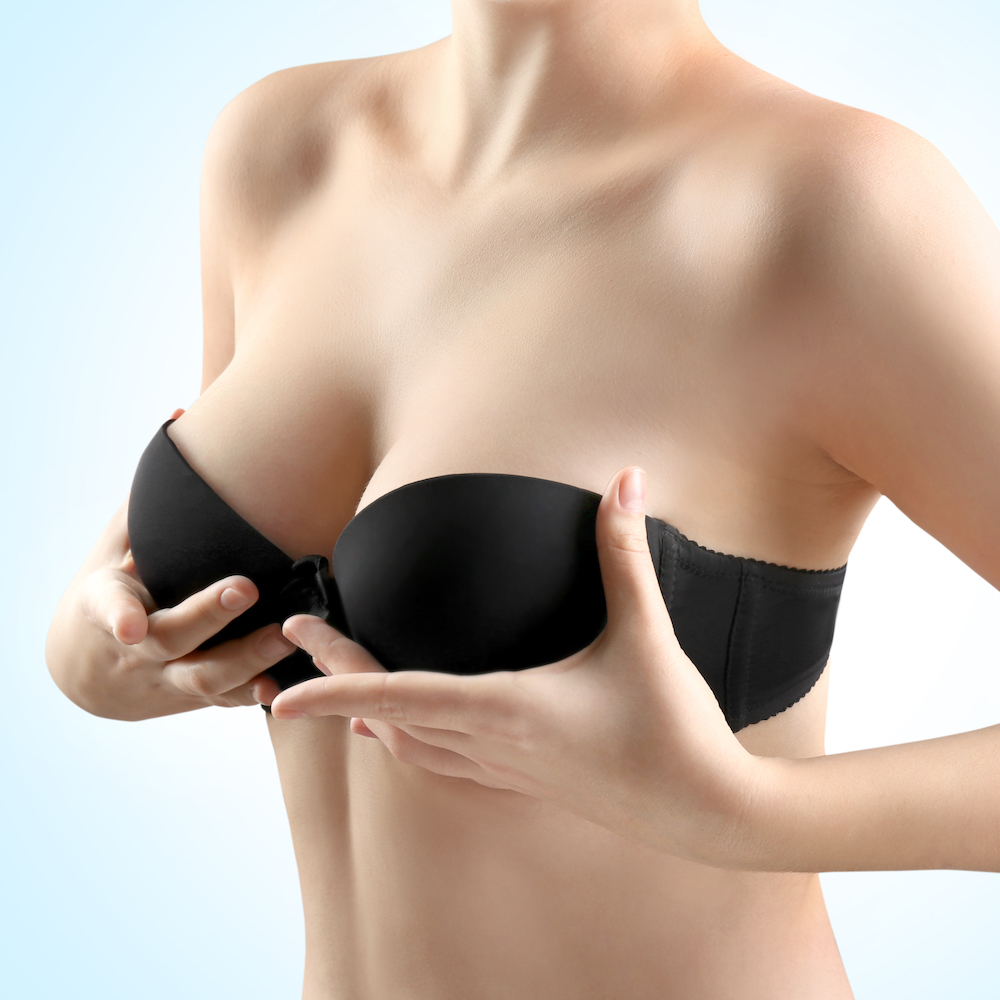 FREQUENTLY ASKED QUESTIONS
How is the breast implants with a lift procedure performed?
The main purpose of mastopexy-augmentation surgery is to restore a youthful uplifted breast shape and to enlarge the breasts with implants. There are several incision techniques for a breast lift, including 'anchor incision', 'lollipop incision' and circular incision around the nipple/areola. Each method has its application and depends on your particular needs.
During the procedure, excess skin is removed and the breast is formed into its natural uplifted shape by placing internal stitches. The same incision is used to make a pocket for the implants which is placed under the muscle.
How does the incision heal after a breast lift with implants?
The surgical site incision heals very well after breast lift surgery with or without implants. The healing process varies between individuals depending on genetic disposition, surgical technique and skin closure methods.
Along with incision placement strategies, Dr. Abolmaali uses different scar minimizing treatments after surgery to improve your ultimate outcome. These treatments may include silicone sheeting, massage and special dressings.
What should I expect for recovery after breast lift surgery with implants?
Breast lift with implants surgery is usually an outpatient procedure. You spend a couple of hours in the recovery room before you are discharged to go home. Prior to surgery, Dr. Abolmaali's office sends you a prescription for pain relief and nausea, so you will have it available in case you need it after surgery.
You have a surgical dressing/bandage over the incisions and a specialized bra to support the breast during recovery. The support bra also helps with swelling and pain after surgery. You can return to light daily activities after a couple of days; however, we recommend avoiding heavy exercise, bending down or lifting heavy objects for a couple of weeks. Depending on your type of surgery, you may need to wear a sports bra for about four weeks after surgery.
After surgery, Dr. Abolmaali will see you each week for the first two weeks, then every two to four weeks up to three months.
BREAST IMPLANTS IN ATLANTA
North Atlanta Plastic Surgery Group is conveniently located in beautiful Johns Creek, GA and provides Breast Lift with Implants Surgery to patients throughout North Atlanta, including: Alpharetta, GA • Cumming, GA • Roswell, GA • Dunwoody, GA • Sandy Springs, GA • Suwanee, GA • Duluth, GA • Marietta, GA • Smyrna, GA • And More!