Thigh Lift Atlanta
Surgery to rejuvenate the inner, outer, or medial thighs is often called a thigh lift. This procedure reshapes the thighs by removing excess skin and fat tissue. The result is tighter skin and a better contour of the thighs. If your skin is elastic without any excess, liposuction of the medial thighs produces very good results; however, if there is excess or relaxed skin, liposuction alone may worsen the appearance of the thighs. Thigh lift surgery removes the excess skin improving the tone of the inner thighs.
Thigh Lift Average Cost: $4,200 – $5,800*
*Stated average cost is for doctor's fees only and DOES NOT include hospital and anesthesia fees. Fees vary by procedure depending on case duration, which can be determined during the initial patient consultation. Financial assistance is offered.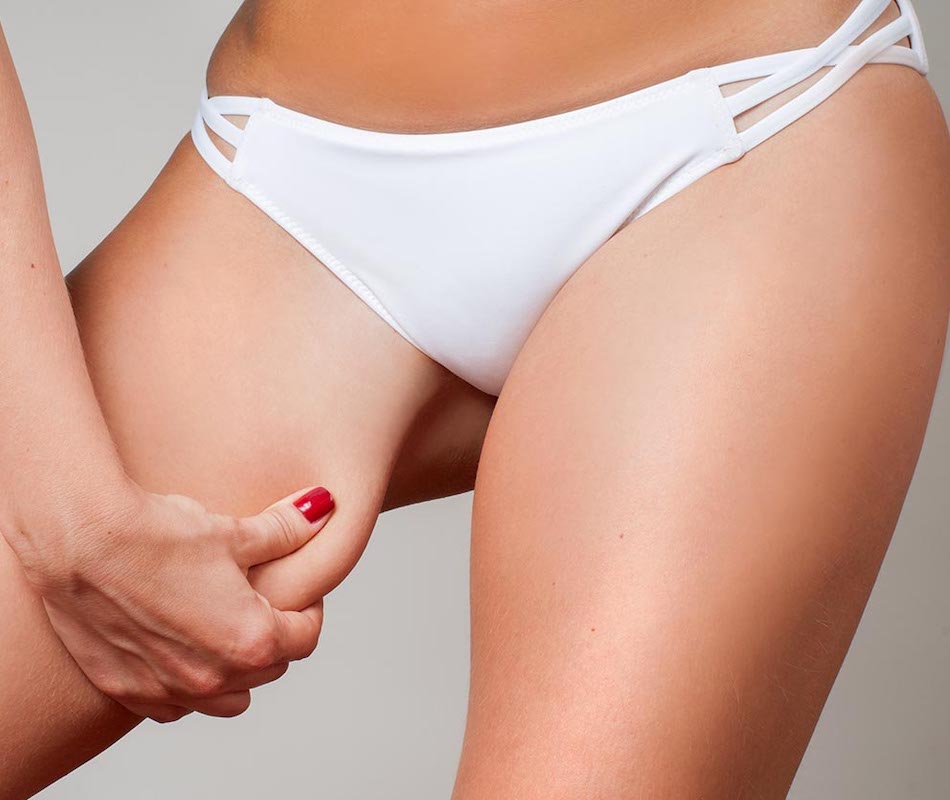 FREQUENTLY ASKED QUESTIONS
Am I a candidate for a thigh lift?
If you are physically healthy with a relatively stable weight and are bothered by the appearance of your thighs, you are a candidate for thigh rejuvenation. Depending on the quality and elasticity of your skin, you may only require liposuction in the inner and/or outer thighs. A complete thigh lift surgery is necessary if the skin lacks sufficient elasticity. Dr. Abolmaali reviews your preferences and goals and after a thorough examination helps you make the right choice.
(Smoking and the use of nicotine products increases the risk of complications. We strongly advise you to quit before committing to surgery.)
Where would the scar be for thigh lift surgery?
It depends on the chosen technique. If only minor amounts of skin need to be removed, the incision can be limited to the groin area with no vertical incision down the thigh. As more skin needs to be removed, A 'T' or 'L incision is used which is partially hidden in the groin with a vertical portion down the thigh. The sites of incision tend to heal very well. Your experience is determined by your health and genetic propensities.
After a thorough examination, Dr. Abolmaali advises you about which technique is best to achieve your goals.
Can I have liposuction together with a thigh lift?
Depending on the amount of excess relaxed skin, thigh rejuvenation may only involve liposuction or liposuction combined with skin removal surgery. It is also possible to perform liposuction in other areas, such as the hips or abdomen during this surgery.
What can I expect for recovery after thigh lift surgery?
Thigh lift surgery is usually performed as an outpatient procedure. At the pre-op visit, Dr. Abolmaali reviews the steps of surgery and recovery as well as the risks. You are asked to sign an informed consent. You receive a copy of the consent and prescriptions for pain and nausea relief as well as antibiotics, so they are ready for you after surgery.
On the day of surgery, Dr. Abolmaali reviews the consent form once more and answers any lingering questions.
Upon completion of the surgery, you have dressings and bandages over your incisions. Each entire leg is wrapped in a compression garment to minimize swelling and pain. There is a drain on each leg to remove excess fluid and accelerate the healing process. The drains are very easy to take care of. You receive instructions to manage them at your pre-op visit as well as before you are discharged. The drains are removed on the first or second post-op visit.
You are able to perform light daily activities at home after surgery and can walk immediately; however, we strongly recommend you keep your legs elevated for the first few days at home to keep the swelling down. Dr. Abolmaali sees you on a weekly basis until the drains are removed then every two to four weeks up to three months, and every three to six months afterwards until you are sufficiently healed.
THIGH LIFT SURGERY IN ATLANTA
North Atlanta Plastic Surgery Group is conveniently located in beautiful Johns Creek, GA and provides Thigh Lift Surgery to patients throughout North Atlanta, including: Alpharetta, GA • Cumming, GA • Roswell, GA • Dunwoody, GA • Sandy Springs, GA • Suwanee, GA • Duluth, GA • Marietta, GA • Smyrna, GA • And More!