Tummy Tuck (Abdominoplasty) Atlanta
An abdominoplasty, or tummy tuck is the surgery to remove excess skin and fat from the lower part of the abdomen, to tighten the weakened abdominal muscles, and to reconstruct a new naval (belly button) at a new position. Many people, men and women, notice the appearance of excess skin and stubborn fat in their abdominal area that persists despite all their dieting and exercising efforts. The goal of a tummy tuck is to achieve a flat abdomen and for women a more hourglass waist line.
Tummy Tuck Average Cost: $3,200 – $6,000*
*Stated average cost is for doctor's fees only and DOES NOT include hospital and anesthesia fees. Fees vary by procedure depending on case duration, which can be determined during the initial patient consultation. Financial assistance is offered.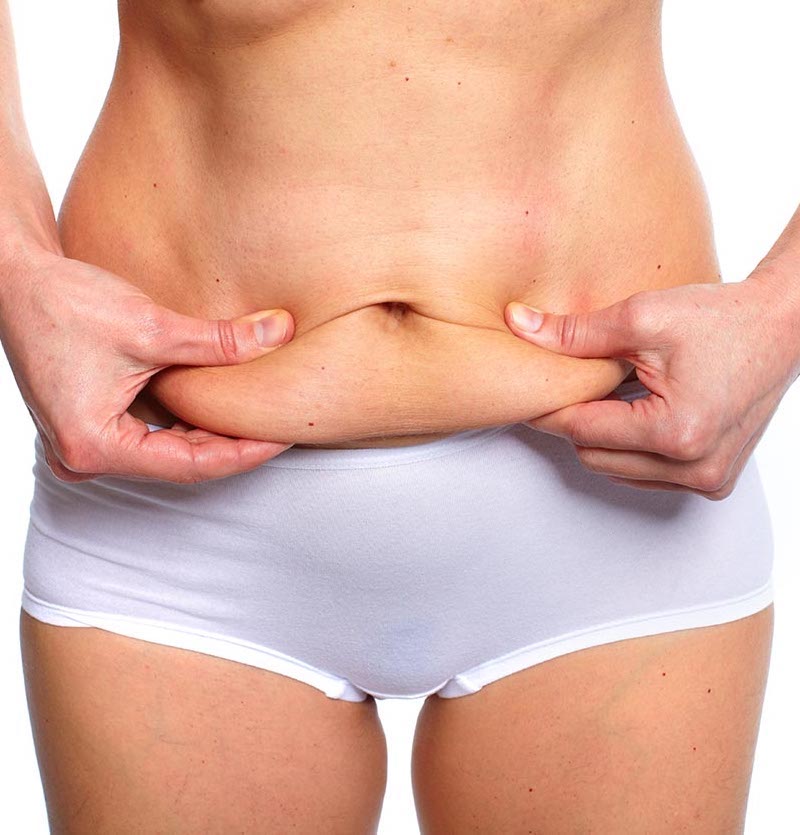 FREQUENTLY ASKED QUESTIONS
Am I a candidate for a tummy tuck?
If you are a healthy individual and wish to improve the appearance of your midsection, or if you have been trying hard to get rid of your overly stretched skin in the abdominal area ('belly pooch'), you are definitely a candidate for abdominoplasty. Perhaps you have noticed that your abdominal muscles are weakened or separated after pregnancy or surgery, a tummy tuck can tighten these muscles and restore their firmness.
The best results occur when a candidate has achieved their desired weight goals and has maintained a steady weight for at least three months. Smoking or the use of nicotine products significantly increase the risk of complications after abdominoplasty.
Dr. Abolmaali can help you to determine if you are a candidate for a mini-abdominoplasty or liposuction as well.
What is a mini-abdominoplasty?
A standard tummy tuck involves making an incision below the bikini line from hip to hip and lifting the skin to access the abdominal muscles. The muscles can then be repaired, if needed, to help add tone and firmness to the abdomen. The excess skin is trimmed away, the remaining tissue is pulled down to the original incision and secured with sutures. The naval is also moved to its new position. However, in a mini tummy tuck, we limit the amount of surgery on the abdomen below the belly button. This allows us to limit the extent of the incision. It is a preferred option for individuals who have a high riding belly button or they are only bothered by fullness and excess skin below the naval. In this operation, the naval is not moved, instead it is just pulled down into position.
Dr. Abolmaali will meticulously review your goals and expectations and, after a full examination, he advises you on the advantages and disadvantages of different techniques for your tummy tuck.
Where will the tummy tuck scar be?
Abdominoplasty is a very individualized procedure. The amount of skin and fat to be removed varies from person to person. The incision is usually hip to hip and designed to fall under the bikini line, well-hidden with clothing. Some women may be candidates for a short scar tummy tuck. Dr. Abolmaali marks the incision placement depending on the style of clothing you prefer. On each side, he limits the extension of the scar for the best possible results.
The incision usually heals very well and the scar fades after a few months. Dr. Abolmaali uses a short incision technique and instructs you on an individualized scar improvement protocol to achieve the best possible outcome after the surgery.
Can I have liposuction instead of a tummy tuck?
It depends on the amount of excess skin as well as the quality of skin in terms of elasticity. If there are any redundant skin folds that bother you while seated, then this usually indicates that liposuction alone may not help you achieve your goal of having a completely flat abdomen. If you have stretch marks, it usually indicates that the skin does not have the ability to contract after liposuction alone.
Dr. Abolmaali meticulously reviews your goals and expectations and, after a full examination, he advises you on the advantages and disadvantages of different techniques for your tummy tuck.
Can tummy tuck surgery eliminate my stretch marks?
Stretch marks are very common after child birth or weight fluctuations. If your stretch marks are limited to the area below the belly button, they might be removed by tummy tuck surgery; however, the surgery does not improve the quality of the skin.
During your consultation, Dr. Abolmaali will go through the incision lines and the extent of skin to be removed surgically.
Can abdominoplasty help with my 'love handles'?
The fatty areas on the sides of the waist ('love handles,' 'muffin top') are very hard to reduce even with the strictest of diet and exercise regimens. In abdominoplasty, we try to limit the incision to the lower part of the abdomen to hide it under the bikini line. This operation also delivers the best approach to address 'love handles.' Usually liposuction in that area is very effective in removing excess fat and restoring a more hourglass waist line in women.
What is 'fleur-de-lis' abdominoplasty or significant weight loss tummy tuck?
Candidates for this surgery have lost a large amount of weight (usually more than 100lbs) or are post-bariatric patients needing a more extensive form of tummy tuck. In a 'fleur-de-lis' tummy tuck or post-bariatric surgery abdominoplasty, a 'T' incision is fashioned which extends upwards toward the belly button. This technique allows Dr. Abolmaali to address the excess skin in the upper part of the abdomen as well.
Is it safe to have liposuction together with a tummy tuck?
Lipo-Abdominoplasty (abdominoplasty with liposuction) is a common but risky surgery. The success of this surgery is dependent on the surgeon's experience and technique. In most cases we easily suction the fat in 'love handles' with excellent results; however, performing liposuction in the upper part of the abdomen can compromise the blood supply to the rest of the abdominal skin and lead to complications.
Dr. Abolmaali is experienced in performing lipo-abdominoplasty with excellent results. Using various techniques, the goal of having a flat abdomen while minimizing the risk of complications is achieved.
I had gastric bypass surgery. Does insurance cover my tummy tuck surgery?
Some health insurance plans cover part of the tummy tuck surgery, if you have undergone weight loss or bariatric surgery. There are stringent criteria for approval which involve a letter and photos from a plastic surgeon documenting the physical examination findings as well as stating the symptoms which necessitate the surgery.
After reviewing the documents and photos, they may approve payment for a panniculectomy, which is a limited tummy tuck. This procedure does not involve liposuction or tightening and toning of the muscles, which are the major elements of the tummy tuck.
Dr. Abolmaali patiently works with your insurance carrier to help you get approval for the procedure.
What can I expect for recovery after tummy tuck surgery?
A tummy tuck is performed as outpatient surgery. At the pre-op visit, Dr. Abolmaali reviews the steps of surgery and recovery as well as the risks. You are asked to sign an informed consent. You also receive prescriptions for pain and nausea relief as well as antibiotics, so they are ready for you on the day of surgery.
On the day of surgery, Dr. Abolmaali reviews the consent form once more and answers any questions. You may receive an injection to prevent blood clots before the surgery as well.
Upon completion of surgery, you have dressings and bandages over your incisions. Your abdomen is wrapped in a compression garment or 'binder' to support your stomach and minimize swelling. The binder also helps to reduce the discomfort and pain after the surgery. You have a few drains, which are placed to remove excess fluid and accelerate the healing process. They are very easy to take care of. You receive instructions to manage them at you pre-op visit as well as before you are discharged. The drains are removed on the first or second post-op visit.
You can return to light daily activities at home after surgery. You can walk immediately; however, you may find it easier to not fully extend yourself for a few days to reduce the tension on your incisions. You are walking normally after a week. We recommend resting for the first week in a reclining position with a couple of pillows below your knees and behind your back.
Dr. Abolmaali sees you on a weekly basis until the drains are removed, then every two to four weeks up to three months and every three to six months until you are sufficiently healed.
You see some immediate results after tummy tuck surgery, however the final results are more apparent after three to six months.
TUMMY TUCKS IN ATLANTA
North Atlanta Plastic Surgery Group is conveniently located in beautiful Johns Creek, GA and provides Tummy Tuck Surgery to patients throughout North Atlanta, including: Alpharetta, GA • Cumming, GA • Roswell, GA • Dunwoody, GA • Sandy Springs, GA • Suwanee, GA • Duluth, GA • Marietta, GA • Smyrna, GA • And More!
Ask About EXPAREL® for a Narcotic-Free Post-Op Recovery!